"Over the hill and through the woods…to the Tower of the Tipsy Monks we go"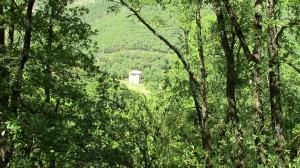 The monks host the annual wine tasting for members during the first week of September.  We are located two miles north of the picturesque town of Gerri de la Sal in the Spanish pyrenees.  Click here to find our location.
This gives you a quick aerial overview of the area Pallars Sobria and Pallars Jussa (with Catalan narration).
The train which runs from Lleida to Pobla de Segur takes your past some of the most beautiful spots in the area. Click here to see the train ride.  You will also have plenty opportunity to enjoy white water sports, for example like these folks rafting, or canyon trekking, biking, or water skiing not to mention dining around the local towns,rivers, and mountains. Click here to learn about near-by towns.
There's ample opportunity to go hiking or if you drive towards Barcelona to visit the awe inspiring Monserrat.
Meanwhile we are here waiting just for you!